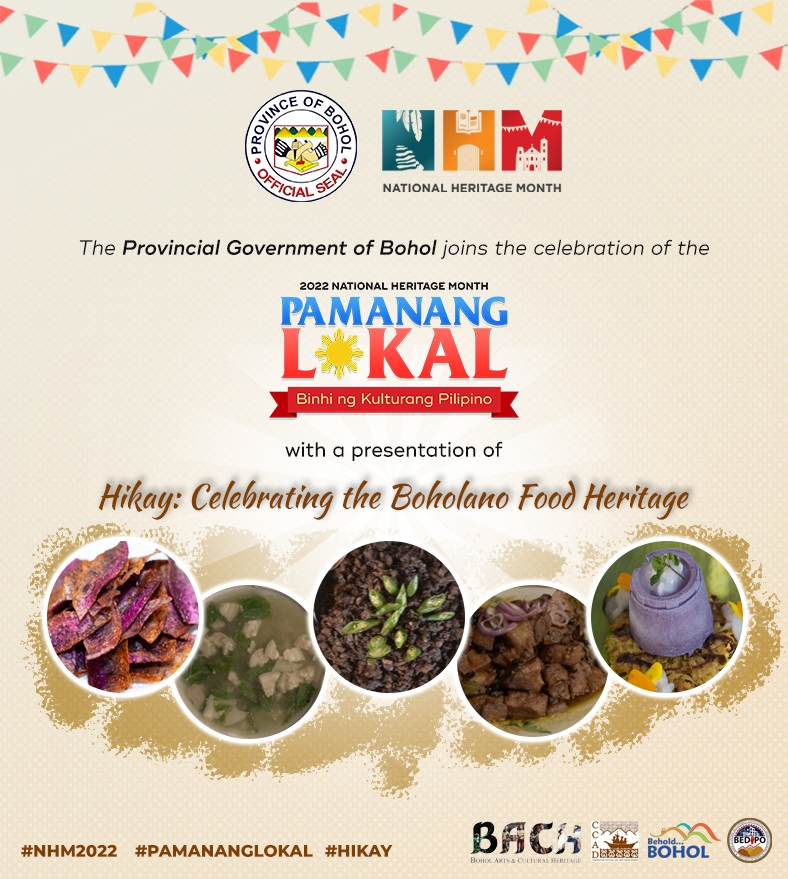 The month of May has always been celebrated as National Heritage Month.  For Boholanos, most especially, the same month is the time when two of our more iconic cultural practices are observed with distinctive fervor: the Flores de Mayo and the Fiestas which occur in towns and villages all throughout this merry month.
          The Boholano Fiesta is both a religious and a social event.  It is done to give thanks for the blessings and protection bestowed by the patronal saint the previous year.  At the same time it is the occasion for family gatherings and for the most sacred of Boholano ritual – the entertainment of friends and visitors from all over.  Obviously, this ritual involves the preparation of special dishes that have become reflective of both the Boholano spirit and our unique cultural heritage.
           Thus, for National Heritage Month 2022, the Provincial Government of Bohol through the Center for Culture and Arts Development (CCAD) and the Bohol Arts and Cultural Heritage (BACH) Council have come up with activities to celebrate Bohol's fiesta food heritage – HIKAY: THE BOHOLANO HERITAGE FOOD FESTIVAL.
Objectives:
Hikay: Boholano Heritage Food Festival is conceptualized to:
Celebrate National Heritage Month with a banner activity that reflects the national theme "Pamanang Lokal: Binhi ng Kulturang Pilipino."
Remind people of the importance of celebrating what is distinctive in our way of life, in this case our unique fiesta celebration, most especially the food tradition we have cherished for so long.
Encourage food entrepreneurs, food business establishments and ordinary food enthusiasts to be more proactive in promoting Boholano culinary traditions in their respective lines of endeavor.
Grant recognition and incentives to culinary stakeholders who espouse Bohol's food heritage.
Provide an avenue for various artists to come up with corollary activities under the banner activity of our food heritage.